Profile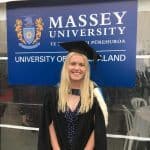 Katie Starsmore
My CV
Education:

Massey University, NZ and my highschool was Sacred Heart Girls' College New Plymouth, New Zealand.

Qualifications:

Bachelor of Science, Major in Agriculture and Minor in Animal Science

Work History:

Laboratory Technician (Fonterra NZ), Calf rearer (Palmerston North, NZ), Beach shop assistant (Opunake Beach, NZ)

Current Job:

Research Technician
About Me

A kiwi living her dream of working in Ireland with world leading scientists straight out of university.

Read more

I am originally from New Zealand and have moved to Ireland in June 2019 to follow my dream of working in the science and dairy world together. I graduated from Massey University, New Zealand last year with a Bachelor of Science, Majoring in Agriculture and Minoring in Animal Science.

I have grown up on my parents dairy farm where they have 550 cows. The highlight of my childhood was always helping mum and dad on the farm with daily tasks such as milking, tractor work and fencing. My favourite time of the year is calving time when I got to help feed and play with all of the new born calves!

I went to a primary school in the local village (10 minutes from my house) and then I went to a girls only boarding school 45 minutes away from my house. After I graduated from high school I went straight to university where I first applied to become a vet. However, I didn't get accepted, therefore I went onto study a Bchelor of Science. And turns out that was the best thing for me, despite being so so disappointed at the time.

And that leads me onto now. I moved from NZ to Ireland to start a job working with world leading scientists in the dairy industry. I am currently working with cows to measure their methane (green house gas) production.

Ask me anything about my life or about my job at the moment!!

Read more

I'm not a scientist that sits behind a desk and stares at a computer all day. I'm not a scientist that is always in the laboratory with a microscope or chemicals. I am a scientist that is outside with 90 dairy cows everyday collecting the air the cows breathe out.

When cows breathe and burp, they release carbon dioxide (the same as us) but they also produce lots of other gases. The gas that I'm measuring is called methane! This is a green house gas that is not very good for the environment. Therefore I need to measure it to see if the cows can burp out less methane and therefore improve the environment.

My job is to understand the effects that different food has on the amount cows burp and especially the amount of methane they produce to know how to improve the environment and reduce the effect of climate change.

My Typical Day

I get up and arrive at work around 9am. I then spend the morning outside with the cows, making sure they are all getting their measurements taken (and giving the cows a scratch and cuddle). I then go inside for lunch at 1pm. After lunch i then go back outside and move the trailer that takes the measurements to their new grass while they are being milked. I then fill the trailers with feed and then go back to the computer inside to look at the last 24hr data.

Read more

My day usually begins with an alarm going off at 7.30am. However some mornings I need to be at work for 7.30 so I wake up at 6am!

I drive 40 minutes to work and get there just after the cows have been milked! This means they are in a fresh field of grass. I wait until the cows have had their breakfast then I begin working with them. While I am waiting for them to finish their breakfast break I quickly check to see what cows have been too lazy to get their measurements taken during the night and make a list.

Around 10am I put my wellingtons (gumboots as I call them) and wet weather gear on (because its highly likely its going to rain on me)  and head to the field of cows. There are 45 cows in each herd and I am in charge of 2 herds which means that I have 90 cows all together to keep an eye on. I encourage the cows that are on my list to go into the machine to get their measurements taken. Lucky for the cows they get a little sweet treat when they use the machine!!

 

Lunch break at 1pm for 40 minutes for me and the cows.

Then I'm back out to the field again, but this time with a tractor. The machines are sitting on trailers and these need to be moved everyday so that it is moved to the same place the cows are grazing. So I move the trailers to the cows next field of grass while they are being milked. They are away for about 30 mins to 1 hour so I only have a short amount of time to move them!

Sometimes the sweet treats in the machines run low so I may need to go into the local town – Fermoy, to pick up some more treats and refill the container.

After all of this is done its about 4pm! I then head to my office and look at the data that has been collected for the past 24 hours. I can see live information too, so i can see if the cows are using the machines or not when I'm not around. If the cows are not using the machines by 4.45pm, i go back out to the field and encourage a couple into the machine. Once a few more cows have gained interest I sneak away and let them figure it out. And believe me they are very smart so they know that if they use the machine they will get treats, and don't we all love treats.

I try and leave work by 5.15pm and head home.

But work doesn't stop there, I can monitor the machines from my phone, so I can make the machine make a noise to get the cows attention if they aren't using it!

What I'd do with the prize money

I would love the use the money to contribute towards an anatomy cow. VistaMilk and I would love to involve the interactive anatomy cow in our school visits all over Ireland!
My Interview

How would you describe yourself in 3 words?

Positive, passionate, funny...

What did you want to be after you left school?

Veterinarian

Were you ever in trouble at school?

Never.....

Who is your favourite singer or band?

Six60

What's your favourite food?

Any thing with chocolate

What is the most fun thing you've done?

Swimming with dolphins in the ocean

If you had 3 wishes for yourself what would they be? - be honest!

Travel the world, own a house and have a dog!

Tell us a joke.

What am I? I am taller than a child but shorter than an adult. I can walk, run and jump with my 4 legs. I can feed people who live on the otherside of the world. I love scratches and hugs.
Work photos:
My profile link:
https://foodn19.imascientist.ie/profile/katiestarsmore/
---
---