Profile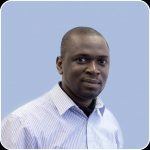 Israel Ikoyi
My CV
Education:

Ahmadu Bello University (Nigeria), Ghent University (Belgium) and University of Limerick

Qualifications:

BSc Agricultural Science, MSc Biology, PhD Soil Microbiology

Work History:

I worked as a Science Teacher in Private Secondary Schools in Nigeria during vacation throughout my undergraduate. I worked briefly as a University Lecturer after MSc and currently work as a Researcher at the University of Limerick.

Current Job:

Postdoctoral Researcher
About Me

Am a Postdoctoral Researcher at the University of Limerick. I love talking to others about what I do.

Read more

I am from Nigeria and currently working as a Researcher at the University of Limerick (UL) where I completed my PhD as well. I live in Limerick with my wife who is a PhD student in UL. In my free time, I enjoy watching comedies and good soccer games.

Read more

I work on microbes in the soil that help in increasing plant growth without the need to apply much fertilizers. The application of large amounts of fertilizers is not only expensive for the farmers (which can make meat and milk expensive for us) but can also cause damage to the environment particularly when they end up in our rivers and streams. I also supervise project of students who are in their final year of college.

I am interested in how farmers can produce grasses for their cattle and other animals at a lesser cost without causing so much damage to the environment. I grow these grasses as well in little pots and then take soil samples from this pots. Once I take the soil samples from my grasses, I do some cool science experiments with them. This include growing them in jelly-like substances (agar) that contains certain kinds of food for the microbes to see how many of the microbes can grow. I also get the DNA from these soils and get them sequenced to see the type of microbes that are there, what exactly they are doing, and  to see how we can increase their numbers in the soil so that they can help the plants grow better.

My Typical Day

I get up early, dress up and go to work for 9 am. At work, I check my emails, then go to the lab where I spend the most part of my day checking my grasses to ensure they are growing well or doing some experiments to grow the microbes from my soil samples.

Read more

Wake up at 7 am. Clean up and dress up for work. I used to cycle to work but my bike was stolen so I walk for about 30 minutes to get to UL. I normally aim to arrive around 9 am. At work, I log in to my computer to check my emails. After that I go to the lab to check my grasses or do experiments with soil samples. I take a lunch break at 1-2pm. Depending on how much I have to do in the lab, I come back to my desk to write up my studies either for presentation at scientific conferences in Ireland and abroad or for publication in scientific journals. I normally close at 5:30 pm.

What I'd do with the prize money

I would use the money to arrange for school visits to primary and secondary schools to demonstrate to pupils how microbes in our environment work and hope to inspire them to become scientists in the future.
My Interview

How would you describe yourself in 3 words?

Optimistic, curious, resolute

What did you want to be after you left school?

A Medical Doctor

Were you ever in trouble at school?

No

Who is your favourite singer or band?

Donnie McClurkin

What's your favourite food?

Roasted potatoes with spicy pepper sauce

What is the most fun thing you've done?

Hiking in a forest in the Sierra Bermeja mountains (Southern Spain)

If you had 3 wishes for yourself what would they be? - be honest!

Become a Professor, own my own house and watch my kids grow

Tell us a joke.

Why was there mushroom at the party? Because he is a fun-guy
My profile link:
https://green.imascientist.ie/profile/israelikoyi/
---
---